QI-ANXIN(Skylar) Endpoint Security Management System
QI-ANXIN(Skylar) Endpoint Security Management System (Referred to as Skylar System) is an comprehensive solution that provides customers with professional endpoint security product and services. Skylar System provides EPP and EDR and DLP in one platform, and one agent across endpoints, and physical, virtual or cloud servers. From 2015, It is rapidly taking market share in China, including numerous very large organizations with more than 100,000 seats. At present, Qi-an Xin Skylar endpoint security management system has become the trust choice of 40 million government and enterprise endpoints in China, ranking first in the market share of endpoint security software in 2018.
Contact US
Product function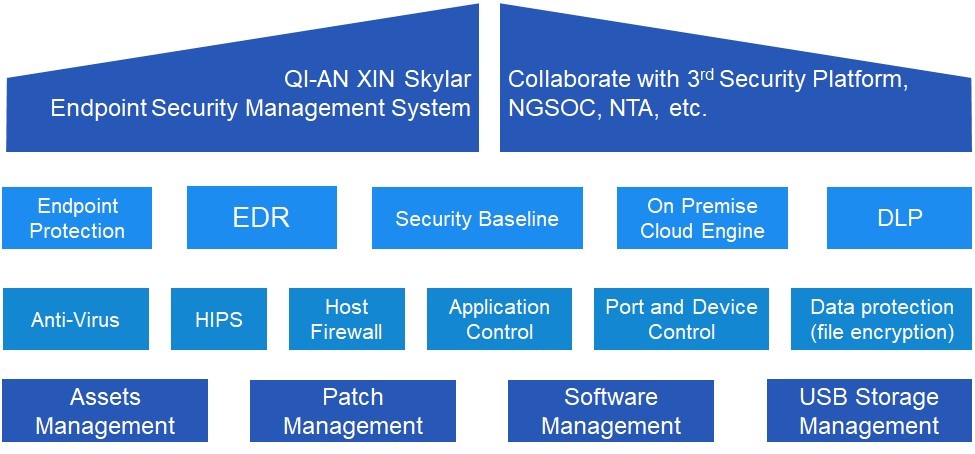 Single agent supports all environments (physical, virtual and cloud) and functions with the same agent and management console for EPP,EDR and DLP.
Agent OS Supported: Windows XP to Win10, Windows Server 2003 to 2016, Linux, Mac OSX
Product value
Integrated and centralized management
Skylar system provide a single management console that can manage the vast majority of our security technologies and functions. It is convenient and efficient for your security team to apply security policies across all endpoints.
Functional integration: Integrating endpoint EPP,EDR and DLP.
Platforms integration: perfect compatible with windows,Linux and Mac OSX.
Data integration: combining cloud reputation service, Threat Intelligence, NGSOC, NTA, etc.
Multidimensional Endpoint Protection
Multi-engine technology: QI-ANXIN Cloud Engine, QEX script engine, AVE heuristic engine, QVM AI engine and System Repair engine.
Active protection technology: effectively detection known and unknown viruses; including 5-layer entrance protection, 7-layer system protection and 8-layer application protection and other active defense technologies.
Automated Security Operation
Endpoint asset management can automatic identification of endpoint asset information. And real-time monitoring of system status and alarm to ensure business continuity.
Automated patch management provides automated, orchestrated patch update to makes it easy for your administrators to look out of known vulnerabilities in operating systems & applications and apply the latest patches to operating systems and applications.
Security policy management provides port and device management, process control, host firewall, desktop security reinforcement and other security functions, to improve endpoint security level.
Endpoint Detection and Response(EDR)
Skylar Endpoint Detection and Response provides managed threat hunting, alerting, response, investigation assistance and remediation using the integrated EPP capabilities in Skylar system.
Skylar EDR endpoint continuous recording of system activity, Skylar system supports full endpoint visibility and real-time queries, allows incident responders to quickly search, identify, and contain all impacted endpoints while investigating threats using on-premises and cloud-based sandboxing and threat intelligence.